Amongst the turbulent clouds, far beyond the mainland, lies the mythical wish maker that is the Wishing Engine.
Background
Edit
Upon arrival here, it becomes apparant that the Engine is guarded.
The Eyeball serves as the final boss of Pandemonium!. To defeat this crazed body part, you need to take control of his cannon from him by destroying the four interlocks around the arena. But just because you can take control of the cannon afterwards doesn't mean you have unlimited ammo and you'll have to reload from time to time when the cannon's ammo is spent. Keep at it and you'll gain access to the Wishing Engine and win the game!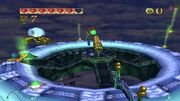 Ad blocker interference detected!
Wikia is a free-to-use site that makes money from advertising. We have a modified experience for viewers using ad blockers

Wikia is not accessible if you've made further modifications. Remove the custom ad blocker rule(s) and the page will load as expected.