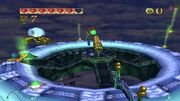 The Wishing Engine was a powerful device first described in the Ancient Wizard's Spellbook, located high above Lyr in a turbulent storm. It was capable of giving a wish to anyone present, due to three sentient beings being present when Fargus, Sid and Nikki arrived, three wishes were given.
As it could grant somewhat impossible wishes, it could have been the reason why a wish from this engine was the only thing capable of banishing Yungo, an evil being summoned accidentally by Nikki.
When the trio arrived at the Wishing Engine, it was being guarded by a strange guardian - a giant Eyeball with a mechanical body.
Ad blocker interference detected!
Wikia is a free-to-use site that makes money from advertising. We have a modified experience for viewers using ad blockers

Wikia is not accessible if you've made further modifications. Remove the custom ad blocker rule(s) and the page will load as expected.