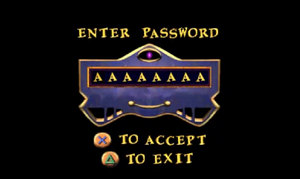 Passwords are codes that enable certain elements of the games to be unlocked for the player, whether it is their previous progress or a cheat-code feature.
Progress codes
Edit
These codes are given after the completion of a level, and as a form of save system are based on the progress made during the level. This may include the coins, hearts, heart-containers and ankh lives obtained. Pressing "Select" on the Mystic Map level select screen will display the current password.
Cheat codes
Edit
Cheat codes may used in a variety of ways for a variety of purposes, and although some may easily be considered to be cheating, via making the game easier, others may add increased difficulty and challenge. They can be grouped accordingly:
God-mode cheatsEdit
These cheats are designed to give the player an extremely easy play-through of the game.
BORNFREE = World's Your Oyster! - Level Select
HARDBODY = Can't Touch This! - Invincibility

Easy-mode cheatsEdit
These cheats are designed to give the player an easier play-through of the game. ALMABHOL = Open all levels, unlock all ankhs and heart-containers. (Very easy)
VITAMINS = "Life of the party!" Gain 31 Ankhs. (Easy)
CORONARY = "Hearts Aplenty!" Gain maximum health. (Easy)
OTTOFIRE = "Permanent Weapon!" Special weapons never run out of power (Easy)

Challenge cheatsEdit
These cheats are designed to add an extra bit of challenge to the game, effectively creating a hard mode.
EVILDEAD = "Immortal enemies!" Enemies respawn after death (Hard)
TWISTEYE = "Rock 'N Roll!" Rotate the screen by holding L1 + L2 and moving the D-pad
Gameplay enhancing cheatsEdit
These cheats may be considered to unlock certain elements of the game that the developers chose to omit from the final game. The usefulness of returning to the map is unparalleled, and to change characters mid-way through a level provides a more rich gaming experience that contemporary gamers may.
INANDOUT = "Just Visiting!" Quitting returns you to the Mystic Map, not the main menu.
BODYSWAP = "Gender Bender!" Press Triangle to swap characters in mid-game.
Fun cheatsEdit
Designed to add an extra bit of fun to the game.
THETHING = "Mutant Mania!" Hold L2 to mutate your body. Press L2 + X to reset
Bonus-round cheatsEdit
Designed for continuous bonus-level play.
TOMMYBOY = "Full Tilt!" Takes you to Full Tilt when you finish a level
CASHDASH = "Speed Greed!" Takes you to Speed Greed screen when you finish a level

Level codes
Edit
Level codes are considered a type of cheat-code in the sense that it will unlock all levels up to a point, however, without previous obtained items.
ADEAMIIE
EPIJAKCA
FBIJAKCI
KOCCCIEE
NGIAIBJJ
NIIAJBCB
KGCACICI
AHICBAJE
AIICFAJG
AIICBAJI
FBIIAKCK
FDIIAKDC
FFIIAKDK
KACACIBA
ADMCFAID
EMIIEKBE
OEIBIBMJ
FAAIAKCE