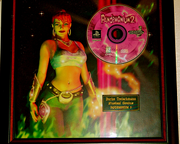 The Pandemonium 2 soundtrack was the musical accompaniment to Pandemonium 2.
Background
Edit
The soundtrack was composed by Burke Trieschmann. Very much like Pandemonium 2's change of tone, the soundtrack also diverges slightly from the original's Celtic genre; Pandemonium 2's soundtrack offers a more vibrant electronic sound inspired by genres such as techno and electronica.
Tracklisting
Edit
Main Menu
Ad blocker interference detected!
Wikia is a free-to-use site that makes money from advertising. We have a modified experience for viewers using ad blockers

Wikia is not accessible if you've made further modifications. Remove the custom ad blocker rule(s) and the page will load as expected.