Magical Hoppers マジカルホッパーズ (known as Pandemonium in EU and NA) is a platform game, published by Crystal Dynamics and Bandai in Japan). As with its Western counterpart, it was developed by ToysForBob, with certain changes and additions made by Bandai.
Rather than using a memory card as in most games released at the time, progress is saved using the older password system.
The story revolves around two energetic characters known as Clam and Guppy and their mentor Sid.
"Magical Hoppers: Have you heard this name? This is about a boy named Clam, who is very lively (and a little bit carefree!?) and a very cute girl, Guppy. At first glance, they look like ordinary people, but they change to Magical Hoppers and they have a big mission - saving the world on different levels.
A statement of emergency!! Amazing Land, which presides dreams and hopes in the world is in a critical situation. Their story is getting started here with a noisy partner, Sid." [1]
Changes from the original
Edit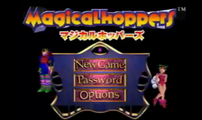 Other than the replacement of Fargus, Nikki and Sid, and the change in the characters' characterisation, there exist other notable changes. The introduction and ending, instead of Pandemonium!'s cgi FMV, differs in its use of an anime cutscene for the Sega Saturn version and anime stills for the PS version. One further change is in gameplay, instead of Fargus' cartwheel tumble, Clam attacks in a forward roll manoeuvre (similar to Fargus in the second game).
Main article: Pandemonium!
Main article: Pandemonium!
Image gallery
Edit
Video gallery
Edit
References
Edit
↑

Magical Hoppers Instructional manual.